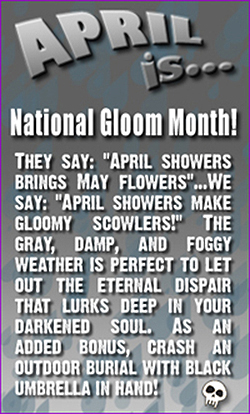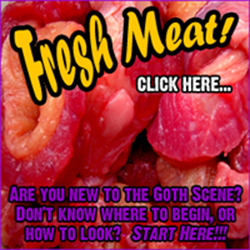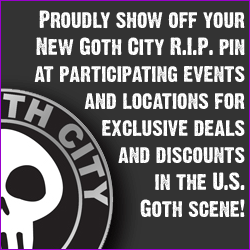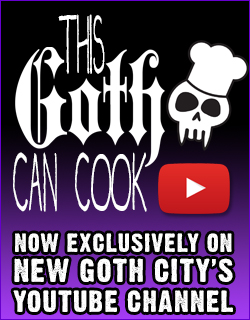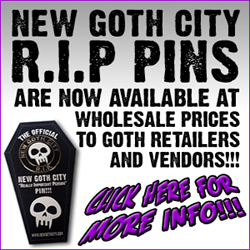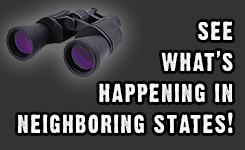 - ARIZONA -
- CALIFORNIA -
- IDAHO -
- OREGON -
- UTAH -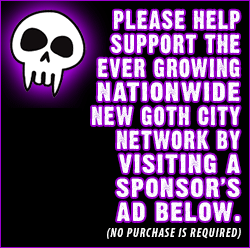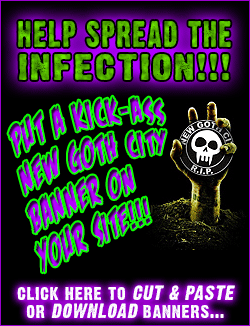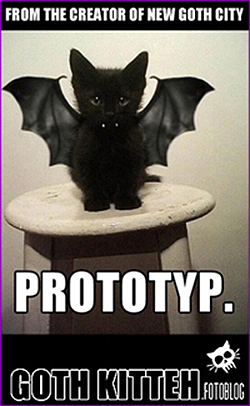 Disclaimer: All listing information is subject to change. Please check with linked official website and/or Facebook page.
NewGothCity.com is not responsible for any last minute changes in times, dates, prices, age restrictions, cancellations, etc. 


      


CASH 4 CHAOS
CLOTHING/JEWELRY/HOME DECOR/ACCESSORIES/GIFTS
Location: 4110 S Maryland Pkwy, Suite 27 & 28 map & directions

Telephone

: 

702-699-5617

What to expect: Providing the Las Vegas areas with all their subculture needs since 1998, this store has become the definitive staple in the underground scene there. The place is brimming with merchandise that you will simply find no where else in Sin City! So when you finally get bored with all of the glitz and rampant consumerism of the Strip with all of the casinos and bright lights, go to Cash 4 Chaos to to feel at home and recharge your inner Goth batteries there!




RITUAL @

The BlueBird

MONTHLY EVENT: GOTH/INDUSTRIAL/EBM/NEW WAVE DANCE PARTY & NIGHTCLUB EVENT
Location: 555 E. 4th Street        map & directions
Hours: 9pm - 2am     

Ages:

18+/21+ to drink (with I.D.)

      Admission: $3.00 before 10pm / $5.00 after 10pm
Dress code: Not enforced but proper scene attire is encouraged and expected.
Want to list your Gothic event, establishment, or attraction on New Goth City for FREE???

Simply invite Sir William Welles to your event's page on Facebook, send him details on a Facebook message, or send him your details on an email via: GetListed@NewGothCity.com!
(Events, establishments, and atttractions only located in the United States are eligible and must strictly be geared toward the Goth and Alt lifestyles...hence, your event WILL be reviewed before being listed.)
BACK TO TOP